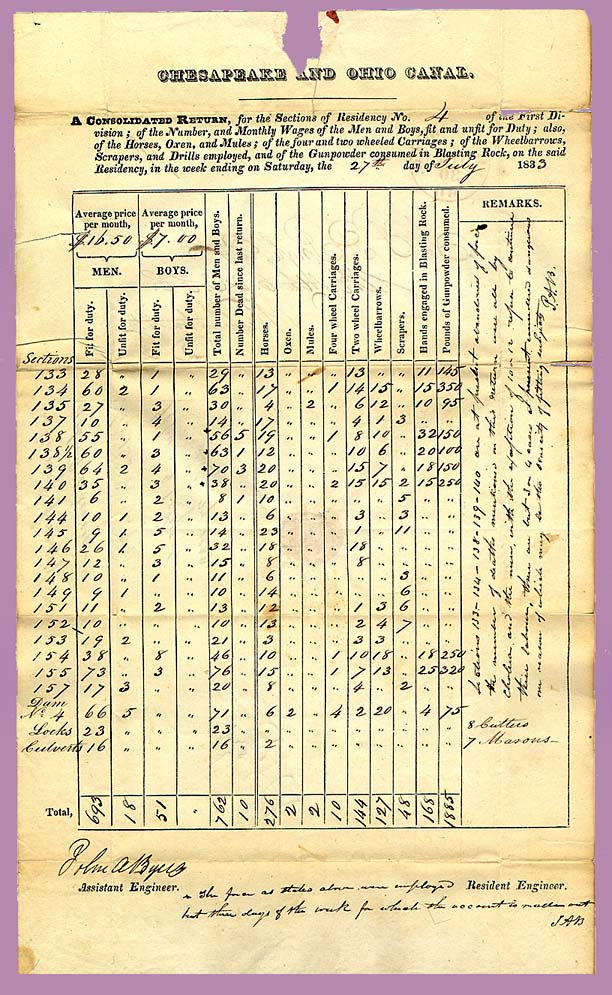 On Jan. 29, 1834, Andrew Jackson became the first president to use federal troops to suppress organizing by wage workers; setting a dangerous precedent for future labor-management relations. When labor uprisings increased toward and into the turn of the century, business leaders were confident in the knowledge that they could turn to local, state, or federal government leaders to defend them against organized labor. Workers building the Chesapeake and Ohio Canal were rebelling and rioting because of persistent poor working conditions and low pay. (From History.com)
Recruitment signs posted in Ireland by the U.S. canal and railroad companies promised: Meat! Three times a day! Plenty of bread! and fresh vegetables with generous portions of liquor and good wages!
The advertisements turned out to be misleading and the immigrants barely survived the brutal and dangerous work. One letter home in 1860 said:
The rarest sight in America, is that of a grey haired Irishman.

Image: Document from Assistant Engineer, John A Byers, July 27, 1833, enumerating workers and equipment from USGenWebArchives. The fifth column from the left indicates the number dead since the prior report.
Here is a photo of another time that armed forces were called in to protect the interests of company owners against the workers, this time in Lawrence, Mass. in 1912.